MERDEKA EVENT
MISSION : COLLECT 100 COIN FROM ANY MONSTER IN CRONUS , DARKMARSH , ISLAND AND ICYLAND . BUT YOU NEED TO DO THIS ONE BY ONE . YOU NEED TO FINISH AT CRONUS FIRST THEN OTHERS MAPS NEXT .
START : 16TH SEPTEMBER 2011
END : 23RD SEPTEMBER 2011
REQUIREMENT : 5PASSION AND STRONG
MISSION ITEM
MERDEKASTAFF1 , MERDEKASTAFF2 , MERDEKASTAFF3 , MERDEKASTAFF4
EUJINCOIN1 , EUJINCOIN2 , EUJINCOIN3 , EUJINCOIN4
MERDEKACOIN5
FLAGS OF EVERY STATES IN MALAYSIA
JALUR GEMILANG
PRIZES
CLICK HERE
STEP 1
GO TO NPC DATO BAHAMAN AND ASK HIM ABOUT YOUR QUEST . HE WILL GIVE YOU THE FIRST ITEM MERDEKSTAFF1 SO YOU CAN KILL THE MONSTER AND GET EUJINCOIN1 . YOU WILL DO THIS STEP UNTIL YOU GET MERDEKACOIN5 . EACH MAP HAVE ITS OWN ITEM . YOU HAVE TO FINISH THIS QUEST STEP BY STEP START FROM CRONUS THEN FOLLOWED BY DARKMARSH , ISLAND AND ICYLAND . REMEMBER YOU NEED TO HAVE 100 EUJINCOIN BEFORE YOU ASK DATO BAHAMAN FOR THE SECOND TASK OTHERWISE IF YOU DONT HAVE 100 COINS , HE WILL TAKE BACK MERDEKASTAFF AND YOU NEED TO START OVER .
STEP 2
AFTER YOU GET MERDEKACOIN5 FROM DATO BAHAMAN THEN YOU HAVE TO GO TO MERDEKAFLAG1 ( ROSLI DHOBI ) AND MERDEKAFLAG2 ( TOK JANGGUT ) . YOU MAY CHOOSE EITHER ONE . BOTH OF THEM HAVE ALL THE FLAGS . GIVE THEM YOUR MERDEKACOIN5 THEN THEY WILL REWARD YOU ONE FLAG RANDOMLY . YOU HAVE TO COLLECT 10 SAME FLAGS IN ORDER TO TRADE THEM WITH JALUR GEMILANG .
STEP 3
IF YOU MANAGE TO COLLECT 10 SAME FLAGS THEN GO TO NPC MERDEKATRADER ( MAT KILAU ) TO TRADE THE FLAGS WITH JALUR GEMILANG . WHEN YOU HAVE THE JALUR GEMILANG SO YOU CAN GET WHAT ITEM THAT YOU WANT FROM NPC MERDEKAGIFTS ( MAT SALLEH )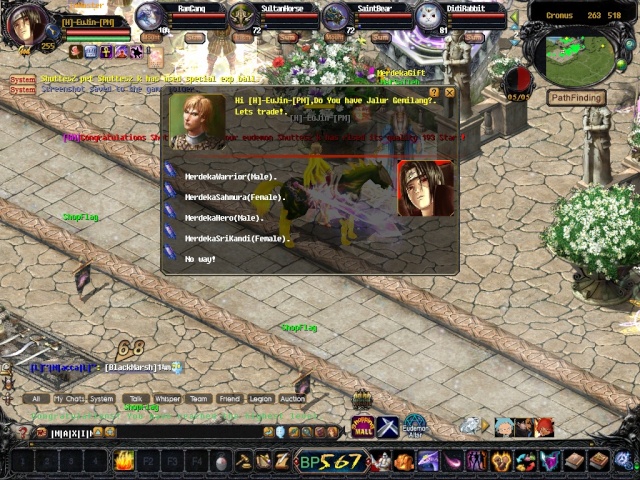 ENJOY AND HAPPY MERDEKA RAYA